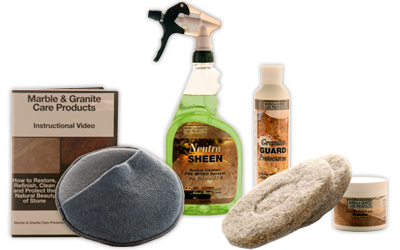 -- John Nielsen, Prescott AZ
I received the bonnets in the mail yesterday, and I wanted to thank you for your great customer service, I will use only your company for all of my marble and granite cleaning and sealing and restoring projects. I will also tell all of my friends about what a great experience I had dealing with you and your company and recommend they also buy from you. As a fellow business owner (over 20 yrs in the restaurant business) I know what customer service is all about. Thank you again!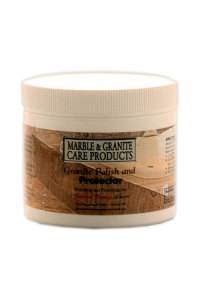 Sue Weir, Milford, CT
I received my granite polish order and with just a few minutes of easy handwork, my granite looks INCREDIBLE!!!!!! THANKS!
-- Ronna Sanchez, Cambridge, MA
My granite looks GREAT!!! The FAQ, your email, and viewing the instructional DVD several times helped immensely. I feel quite accomplished. Next is the marble in the bathroom (well not until I have another free weekend). I will have a few questions for that as well. Thanks again for your excellent products.
-- Bob Williamson, Salisbury N.C.
I went to the marble shop to see about getting my marble polished. He gave me a price of $650.00 I came home the day it was to be polished and to my surprise it had not been done. I called and he said it was unrepairble.So I went to the internet and had the good luck of finding you guys. My marble looks brand new and I can keep it looking great. I have never endorsed someone before, but this Deluxe Marble & Maintenance Kit with Buffer is the cat's meow!!! Sincerely,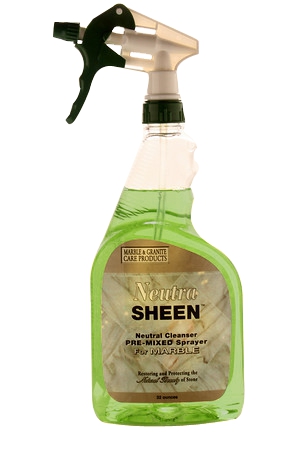 -- Mary Woods, Bay Village, OH
My order arrived today...wow, that was fast! And thank you so very much for the gift. That was an unexpected and much appreciated surprise:) I couldn't wait, so I've already tried the cleaner on one small area. So far so good; it cleaned really nicely and smells great too. I'm actually looking forward to cleaning my 2 marble showers tomorrow....a task I've sort of been dreading since we moved here. Thank you again for the beyond-prompt service and the housewarming treat! Sincerely,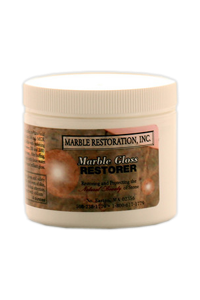 -- Jim Gillespie, Reno, NV
We have a large 7'x8' marble shower in our master bath. The previous owner sprayed DOW tile cleaner on all the marble walls and let it run down the walls and dry. That action severely etched the stone in long vertical streaks. I had two stone installers and one (highly recommended) stone refinisher look at our shower and they all said that the etching could not be repaired. In fact, the stone refinisher spent two hours buffing the walls in an attempt to fix the etching, with no success. All said, the shower marble would have to be replaced at an estimated cost of $8,000! I found Marble & Granite Care Products on the internet and purchased the Deluxe Marble Refinishing Kit. I worked on a test area of 10 sq ft to see if the Marble Restorer would fix the problem and it did! Depending on the severity of the etching on the stones, 2 to 3 passes with the Marble Restorer removed all the etching and the marble now looks Brand New! I did not have to hone the walls, so I can save time on those steps. I just ordered more of the Marble Restorer and I can't wait to repair the rest of the shower, then it is on to the eight year old marble counter top. Amazing how a great product can enable a homeowner to achieve better results than the Pros! Thanks again for providing such a great product and support! Sincerely,
Ed Garrett, Plantsville, CT
I purchased marble cleaner, polish and restorer last week. I applied them as directed to marble tile in the foyer of my home. The installation is more than 20 years old and never polished before. To say it is was dull, is an understatement. After the application, the floor looks as good if not better than when it was new. I am very impressed. Thanks for producing a great product.
Marta M. West, Frankfort, KY
Two years ago we built a house with marble floors and after carefree living no maintenance and heavy traffic, the floors completely lost all it's beautiful luster. We bought two expensive floor buffers and hand orbital cable buffer and tried everything in the market but nothing seemed to work until I found these products on the internet and after watching and learning thanks to the DVD we thought we had to sand our floors 1st due to all the damage & dull look ( a job that not only seems hard and time consuming specially with 3 kids running around, but also a bit scary for the possibility of damaging our marble ) We were determined to hire professional help until I decided to use the Marble Restorer on the cleaned marble floors using NeutraClean first and I was shocked to see it shine as new and with no need to use a sander for the honing process!! I highly recommend these products and please remember that even though you might think your floors are way too damaged, I would advise to try the Marble Gloss Restorer on your cleaned floors before you get into sanding them....like us you might be surprised at the results and how easy it turned out to be not to mention the amount of money saved by doing it yourselves instead of hiring professional help. Thank you so much......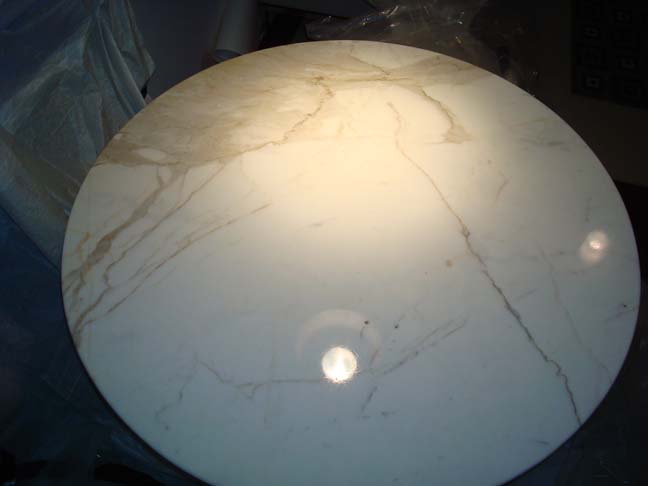 -- Larry Risko, New York City
I got the Gloss Restorer, and used it; I have EXCEPTIONALLY beautiful results, a HIGH GLOSSY SHINE to my White Calacatta Marble table (shown above); All I needed to do, was to immediately RINSE the Restorer off the table with paper towels, sponge, and a lot of water. Thank you for the time spent on the phone, it meant a lot to me!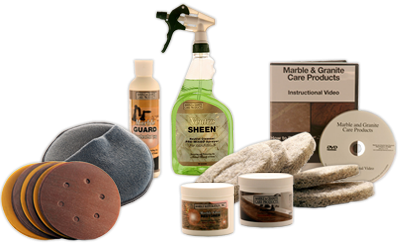 -- Robert Kafarski
Robert J. Kafarski ARM, CCIM, CPM President Kafarski Equities LLC 120 Haven Avenue , New York , NY 10032
I have owned and managed apartment buildings and other real estate for 30 years. We perform many types of renovation and restoration work in house. We have used various suppliers, materials and methods attempting to restore marble in our buildings. But it wasn't until I found your company that we finally got the results we were seeking. Your instructional DVD was excellent. The tools and materials furnished by your company worked perfectly. I am very happy with the results of the marble restoration project we are completing in a 100 year old apartment house located in Manhattan. I plan to restore more of the beautiful old marble in our buildings. Thank you,
-- Rich Haag, Flagstaff, AZ
Spoke with you today regarding your phenomenal product. I ordered your marble refinishing kit and it arrived yesterday evening. Started this morning on my marble-topped table (antique). My father, forty years ago, used this table in his garage as a "work bench". There were saw gashes on it, along with a multitude of paint stains (of the lead variety, I'm sure), rust stains, grease marks and a plethora of unknowns. Undaunted, I began my journey: first the heaviest grade of sandpaper with an eccentric orbital sander then on to the finer grades. This process was done in my garage on my work bench (not another marble-topped table), so there was dust around when I finished (nothing new there), but what I ended up with was nothing short of a masterpiece. The marble glistened, reflected light and felt like a newly-waxed car to the touch. Your products are exactly what they are supposed to be and do exactly what they're supposed to do - if not more ! I thank you and I'm sure, when my wife returns from a trip tomorrow, she'll thank you as well. I actually wish I had other marble-topped tables to refinish - it was truly a pleasure.
-- Greg Hart, Thousand Oaks, CA
Kindly accept this note of appreciation in regard to the products you sell. Utmost to me is the time you took explaining to me the step by step process on the phone even though I watched your how to do video. I purchased the "deluxe marble restoration kit" to restore the 10 year old marble in the shower. After using your product the marble looks better than the first day I had it installed. Thanks to you and your product I have orders form the hierarchy (the wife) to start on the floors (about 1,500 square feet). Believe it or not I am looking forward to the project because I am absolutely certain the end results will be exceptional due to the quality of your product and my elbow grease. Thank you again and I do look forward to speaking with you again.
-- Colleen Gordon, Delta, CO
I wanted to write and say thanks. Your product works great! It was easy to use and it took away all of the etching and rings on the marble. I love my marble counter tops again!
-- John Moore, Great Falls, VA
What a wonderful product your Marble Gloss Restorer is. I recently damaged my marble floor by applying a 'quick & easy' product from a grocery store. The end result was a disaster - and our home was on the market for sale with buyers coming through on a regular basis. We are asking almost $2 million dollars - the floors have got to look great! After speaking with your staff, I followed the clear instructions to clean the stone, and then polished the floor with your polishing pads, MGR and a buffer. The results were better than I had hoped. The floor has a like-new sheen and people coming through the front door go 'Wow! The floor is beautiful' I strongly recommend your products and company to any homeowner wanting to improve the look of their marble floors. For a small investment and a little elbow grease - you can get that hotel lobby effect.
A.J. SARCONE, Staten Island, NY
Bought your "Marble Refinishing Kit", followed the instructional video and my marble floor came back to life. GREAT PRODUCT! Thank you.
-- Barry Cherny, Park Ridge, IL
You are my new best friend! After speaking with you on the phone and setting me up with the deluxe kit,which I received in only four days, I had a great few hours today restoring my marble bathroom vanity top and shower. It was actually fun and it looks phenomenal! I felt like I knew you already when I watched the ever so helpful DVD. You really have a winner of a product here. Thanks for everything.
-- Evelyn Gruening, Basking Ridge, NJ
I just wanted to report to you that I successfully completed the task of restoring my carrara marble kitchen counter tops, and I am 100% pleased with the results. I was very nervous about it and spoke to you twice on the phone. I really appreciate your time and help. It made a big difference in my ability to understand and to do the job properly. I did have enough marble restorer, but just barely. I used all 8 ounces. My counter tops look gorgeous. Before, they had become very dull, scratched and etched. Thank you very much,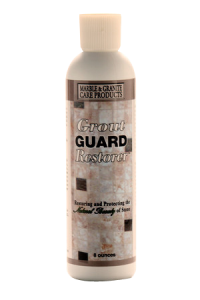 -- Shane Freitas, Lodi, CA
I just ordered the kit; this product is completely UNBELIEVEABLE!!!! I am ordering this additional product just to have on hand, and to show other's how AMAZING it is! AMAZING!!! Thanks for saving my back!
-- Ted Barnham, Hockessin, DE
I was concerned that I was going to spend a lot of money on products that didn't work any better than soap and good ol' elbow grease, but that definitely wasn't the case. I recently purchased the grout restorer, protector, floor brush and grout restoration kit and cleaned approx 350 sf of kitchen, hall and foyer grout. The restorer worked great with easy clean up and no residue and the brush was perfect for the job. I bought the brush not thinking I'd really need it (everyone has stiff brushes, right?) but it saved me a lot of work. I see you've added a demo video on your website that shows the brush in use which should help people see how indispensible it really is.
-- Elaine Healy, East Providence, RI
Thank you for getting in touch with me. And thank you so very much for your generous offer to pay the replacement shipping for the boo boo I made on the first order! I am a true believer that 75% of a business is the service. And you sir, have proven to me that it still exists. I would much rather give my business to the smaller guys than the corporate giants. Also, I did leave the product on the grout a little longer & it seems to be working great! I have also given your company email to two others I have shared the great product you sell. Hopefully they will be getting in touch with an order.
Lea Justice Clam Lake, Wisconsin
I recently used your grout cleaner products, The Restorer and the Grease and Grime Buster. Unbelievable! When we remodeled our kitchen we used tile on our counter tops but never really thought to use a dark color grout. The off white that we used has become terribly stained in certain areas. Spilling coffee will really do the trick. I have tried a number or products and nothing has worked. I felt doomed to live with brown grout. I saw the article in Martha Stewart Living and clipped out the information on your company and the products you offered. I am extremely happy with your product and would recommend it to everyone with off colored grout.
Kathy H Manakin - Sabot Va
This product was amazing. Quick and easy and the results were fantastic. I still can't believe how quickly it works. Thank you.
-- Walter Miller, Syracuse, NY
AWESOME!!!!!!! AWESOME!!!!!!! AWESOME!!!!!!! THIS WORKS GREAT!!!!!!!!!
-- Wendy Middleton, Ontario, Canada
Many thanks again for everything you did to help me. I tried two spots in our bathroom and the results are amazing, fantastic and make me very happy. I will have the white bathroom floor that I wanted. Congratulations on a fantastic product. I will ensure that I pass on the good word about my experience with your company and what a terrific product you have. Best Regards,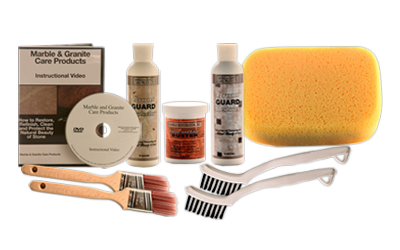 -- Edward L. Barger, Miami, FL
I used the products and was absolutely amazed! The video was extremely helpful and the results were exactly as I expected. I will need to buy more of the Grout Guard Restorer. This cleaning solution, when applied by a paint brush made a significant difference from any other solution I have tried in the past. Thank you.
-- Stephanie Brewer, Oakton, VA
I wanted to contact you and let you know that I used both the grout cleaner and sealer on my kitchen floor and it turned out fabulously!! Your products are outstanding! I cleaned the grout and applied the sealer last November and now after about 3 months, it still looks as good as it did when I applied the product. It's great to know that there is a place to get products such as these that really, really work! I am glad I found your company via an article in the Washington Post.
-- Deborah Lazar, Playa Del Rey, CA
I used your grout restorer and sealer on my ceramic kitchen counters. I want to thank you for making such an incredible product! The grout cleaning and sealing was effortless and successful! I have used other products and had to work like a dog for C- to D+ results. The counters now look as though they were installed 14 days ago rather than 14 years ago. I am using the NeutraClean and that is fabulous as well. Thanks so much for coming up with such a wonderful product!
-- Vicky Stroupe, Murrells Inlet, SC
It is my pleasure to send you an email commending your product. We built my son's bathroom 6 years ago and I did not know that the grout lines would become so soiled. Especially around the toilet and shower. I used hydrogen peroxide with no results. Researching the internet, I found your Grout Cleaner/Restorer & Grout Guard Protector to seal the grout after cleaning. I am very pleased with the results. The grout cleaner application and rinse was very easy to do. The sealer was applied to all grout joints in 30 minutes or less. I had fabulous results from your product and the bathroom floor looks brand new again.