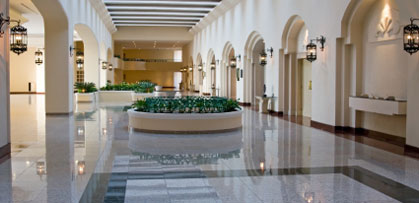 We are a manufacturing and marble, granite, & grout restoration company, producing the highest quality, marble, granite, and grout restoration and maintenance products, serving hundreds of thousands of customers all across the United States and Canada, for over 68 years, with a rock solid reputation for tackling the most challenging jobs and producing complete restorative showroom quality results.
90% of our customers are homeowners who are extremely mindful about maintaining the beautiful appearance and value of their investment in marble and granite throughout their home. Offering the highest quality stone and grout care products that are designed to be user friendly, safe to use, work quickly to produce professional grade results is what we've been doing since 1955.
 Our Instructional DVD shows you step by step, from start to finish, in clear and simple terms how to restore, maintain, and protect your marble, granite, and grout. Our DVD Instructional Video will enable you to have confidence in the fact, that with little or no experience, you will be able to work on grout projects in your kitchen and bathroom; marble refinishing projects on floors, vanity tops, counter tops, table tops or shower walls; granite maintenance projects in your kitchen and bathroom.
 The marble, granite, grout, and stone cleaning products that we manufacture and sell, combined with our other proprietary stone care products that clean, polish, restore, maintain, seal, and protect marble, granite, grout, limestone, travertine, slate, bluestone, terrazzo, brick, ceramic tile, porcelain tile, Corian, Sile Stone, and Caesar Stone, are state of the art, will out perform any and all of our competitors products, because we have tried and tested them, over several years, in commercial and residential applications. All of our marble, granite, grout, stone, and tile cleaning, polishing, and sealing products are specifically formulated, user friendly, and safe to use.
Marble, granite, grout, limestone, travertine, other natural stones, are all extremely porous and their surface chemistry varies from species to species and many times can be quite problematic. Many of our competitors products are either too high in alkaline or acidic, and customers rely too heavily on their labels advertising, not realizing the inherent danger in using these products.
Here is a partial list of some of our customers: Ritz Carlton, Four Seasons, Westin, Marriott, Hyatt, Le Meridien, Harvard University, (MIT) Massachusetts Institute Of Technology, Northeastern University, Bloomingdale´s, Chanel, Giorgio Armani, Polaroid, Fidelity Investments, Andersen Consulting, Converse Sneaker, U.S. Government GSA, American Red Cross, VA Medical Center, New England Medical Center, Boston Symphony Hall, Boston Museum Of Science, Danforth Museum.
*DON´T BE FOOLED BY OUR COMPETITORS PRODUCTS !!!
*THEY MAY HAVE NAMES THAT SOUND RIGHT TO YOU !!!
*BUT DO THEY REALLY DO THE JOB YOU NEED THEM TO DO???
Protecting and maintaining your investment in marble, granite, grout, limestone, and other natural stones is most vital. Your time and labor is so important to you, that making the right choice in purchasing the proper products and tools for your marble, granite, grout, limestone, travertine, and other natural stone projects is crucial.
Take advantage of our 68 years of experience in the field: marble cleaning, polishing, restoring, maintaining, sealing, and protecting floors, walls, counter tops, vanity tops, bar tops, showers, stairways, statues; in hotels, office buildings, museums, colleges, hospitals, and especially in homes like yours.
Our quality control and research staff are constantly working on refining marble, granite, grout, stone, and tile cleaning, polishing, and sealing products, developing new products and techniques to better serve our field technicians and our end user customers.
The marble, granite, grout, stone, and tile cleaning, polishing, and sealing products we sell today, are unsurpassed for ease of use, effectiveness, and economy.